How To Order Your Reports for Business & download immediately
click the button below the item you'd like to order/download
your purchase will by added to the Shopping Cart
a Checkout button will now appear on the screen
to proceed, click the Checkout button — or keep shopping to add more items to your Cart
after the payment is complete, you'll see a message "Thanks for your payment (or order)"
YOU MUST CLICK "return to Bizmarketinginabox" to be able to click the DOWNLOAD LINK
or you could access the link in your Confirmation Email — available for 24 hours.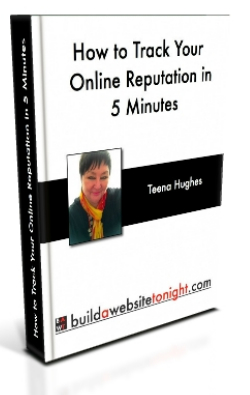 Reports for Business 001 : "How to Track Your Onine Reputation In 5 Minutes"
A downloadable Report by Teena Hughes, with 20+ pages of step-by-step instructions on how to start taking control of your reputation online. Instant download PDF.
Would you like to know how to track your online reputation?
In this Report I show you the step-by-step process I use to keep an eye on what's being said online – for you, your business name, product and service names, staff names etc. Once you know how to track these "mentions" online, you'll learn how to set them up, and use these simple techniques for tracking your reputation. You will be able to see the results on a daily, weekly or monthly basis – you specify how often you'd like to be notified, so if the daily results are too overwhelming, simply change the settings to suit.
.
Reports for Business 002 : "Be Nice, Sell More"
Here's a download you might enjoy which highlights how you can grow your business by being "nice", plus some easy tips and techniques.
Reports for Business 003 : "Top 16 Questions to Ask Before Building or Re-doing a Website"
This free PDF download lists the most important things to consider before creating or making drastic changes to a website.
This is a MUST read!
Stay tuned for more Reports for Business and Website Owners! Make sure you've signed up for my Newsletter, to find out when new Reports and other Training Courses are announced.
The following two tabs change content below.
Latest posts by Teena Hughes (see all)